WANT TO GET FIT, MAKE NEW FRIENDS AND MAKE A DIFFERENCE IN YOUR COMMUNITY?
Improve Your Health And Fitness While Raising Funds To Build Homes For People With Disability
Join The Johnno's Run Team Now And Gain Free Entry To 'Run Melbourne' On
July 28. Plus, Receive A Free Running Top, Gift Bag, Training Sessions And More!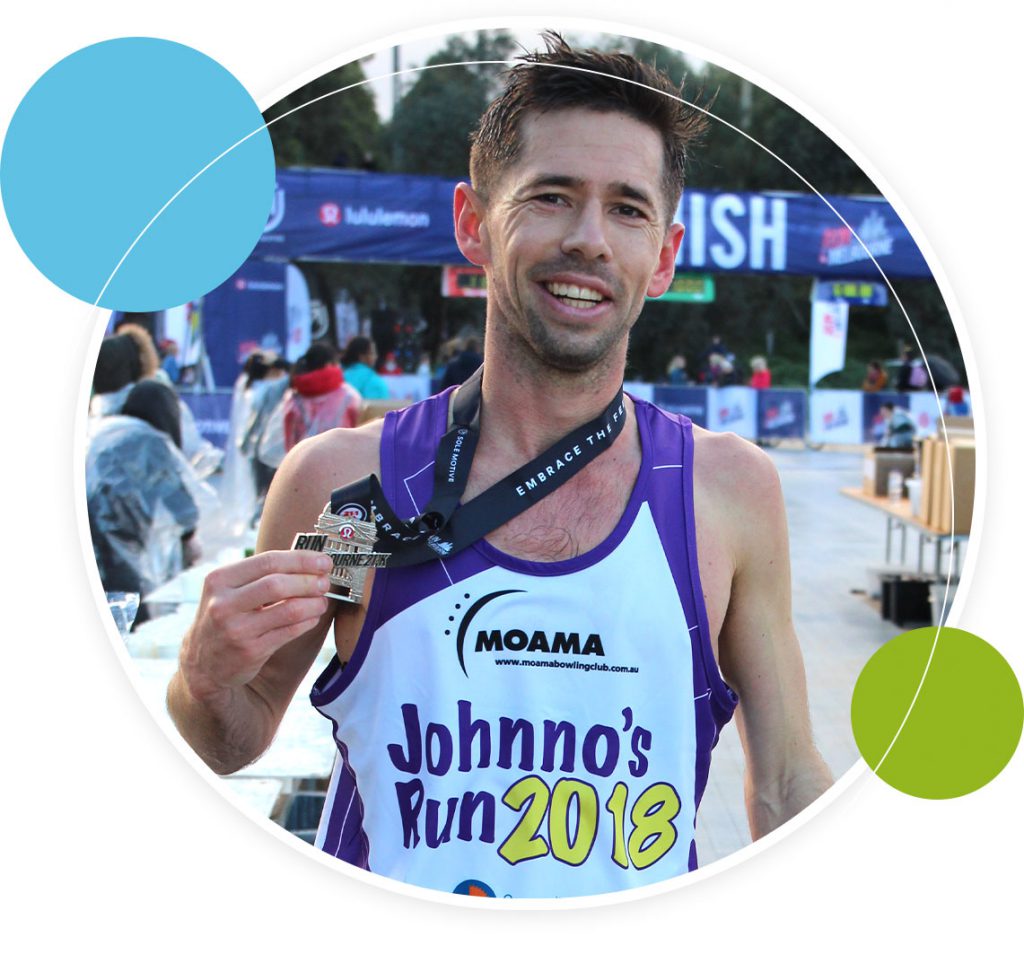 Get Involved In Your Community, Make New Friends And Improve Services For People With Disability
Johnno's Run is an annual fundraising event organised by Community Living & Respite Services. The team is a group of community minded people who participate in Run Melbourne, a fun run (or walk) which takes place on the last Sunday of July.
Our aim is simple – we want you to have fun, meet new people and help raise funds to support people in the community with disability. Johnno's Run changes lives in many ways, opening the doors to improved fitness for hundreds of people, empowering participants and helping raise money for a fantastic cause.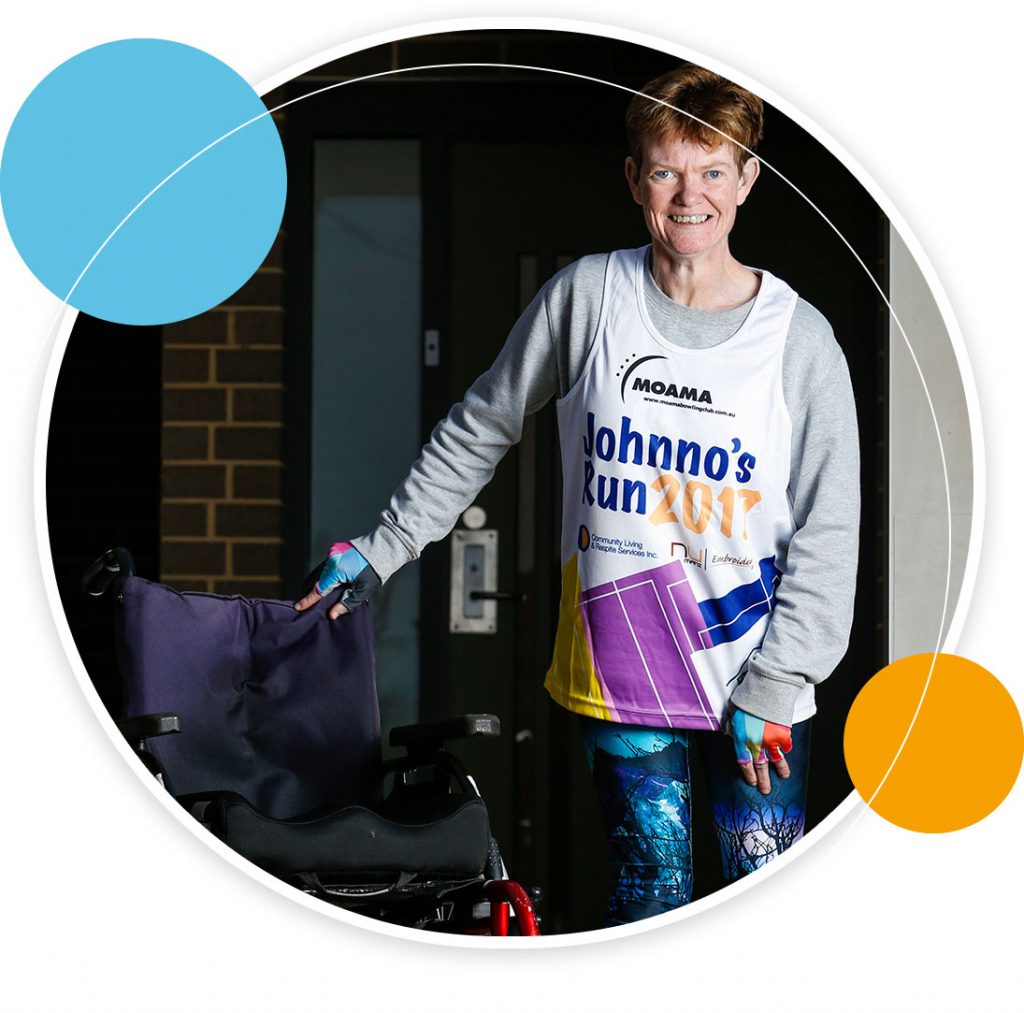 Help Make A Difference By Raising Much Needed Funds To Build Homes For People With Disability
Being part of the Johnno's Run team is a great way to help out the Echuca Moama community. All the funds raised go towards our Opening Doors Project which builds innovative homes for people with disability.
The Project provides support and increases the independence of those in the community living with physical or intellectual disability. One of the most rewarding aspects about participating is the satisfaction you gain when you see the homes being built – you actually get to see the result of the funds you raised!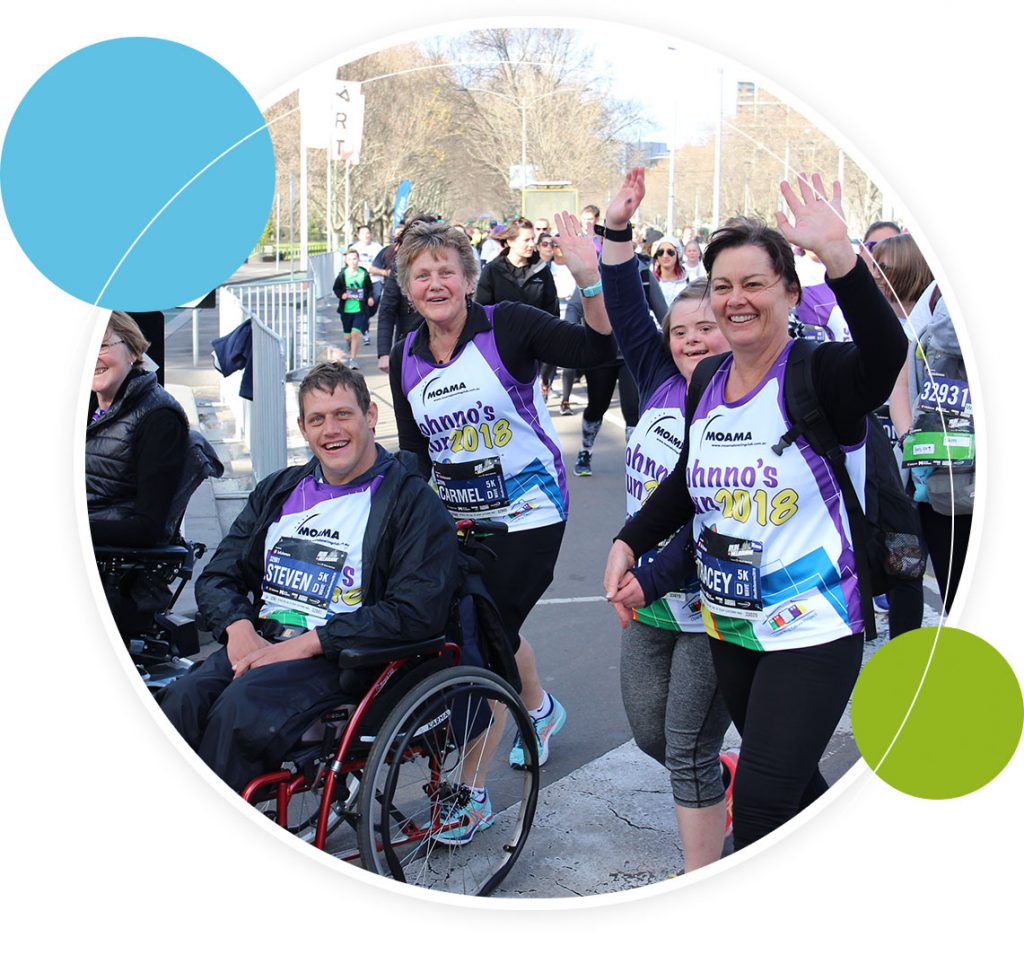 Not Super Fit? No Worries! Johnno's Run Gives You A Goal To Work Towards So You Improve Your Health And Fitness
Johnno's Run is a great way to improve your overall level of fitness and wellbeing. There is an option for everyone, from the real beginner to super fit athletes. You can set your own goals and choose the distance which suits you best – 5km, 10km or a half marathon.
You don't need to be incredibly fast or fit to participate. In fact, many people choose to walk the distance. If you'd like help to prepare, we offer free training sessions and tips on how to do your best and reach your personal goals for the event.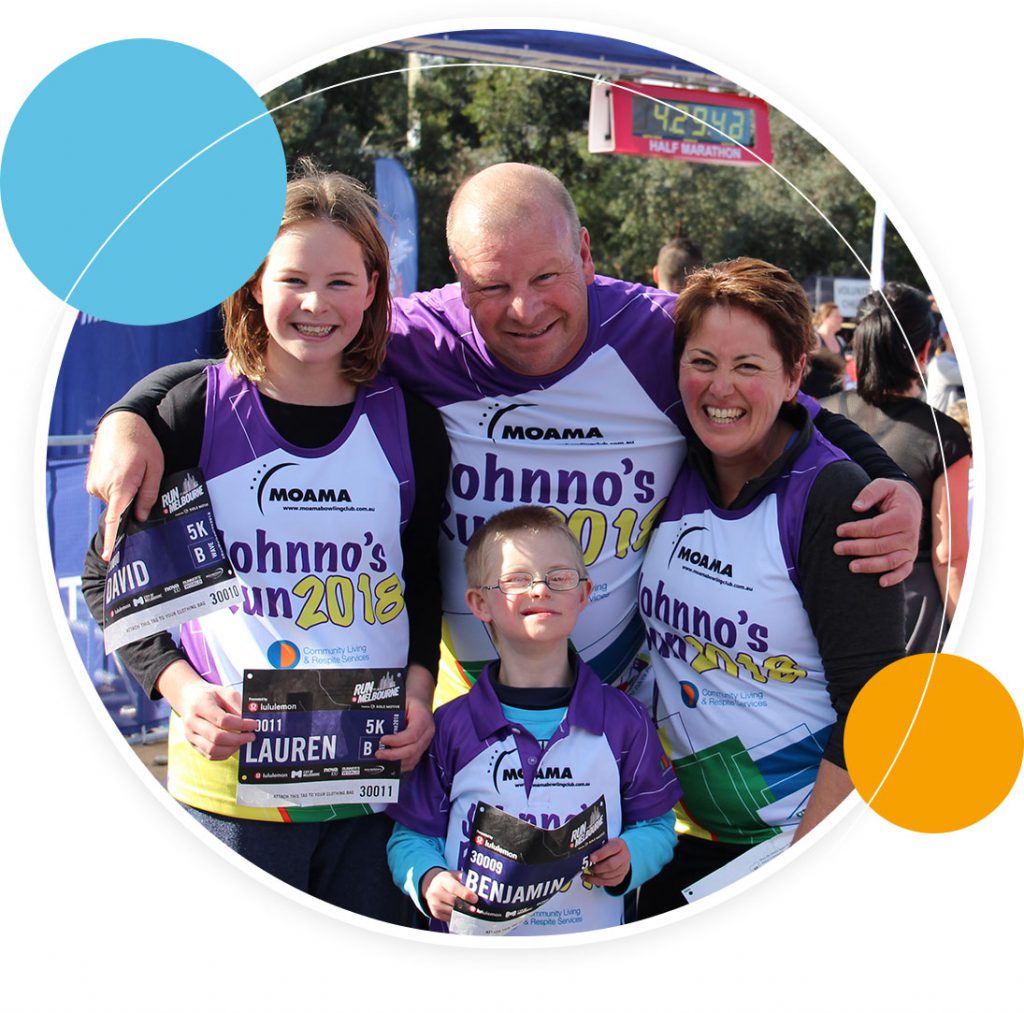 Get Involved In Your Community And Create Lifelong Memories With Friends And Family
Each year the Johnno's Run team is made up of more than 150 people. As a member of this incredible team, you'll meet wonderful people from different walks of life, all united for a common cause.
You'll make new friends with community-minded people, sharing an interest in participating in fun runs (or walks) and giving back to the community. And you'll get to be part of a great group of people who enjoy a laugh, have fun and constantly support each other to do their best.
Need To Know More? These Are The Questions We Get Asked The Most By Participants…
No! Many participants walk or wheel the 5km or 10km. People of all abilities participate each year.
I'm not fit – can I still join?
Absolutely! If you are worried about your fitness, we have free training sessions on Mondays at 4.30pm or 5.15pm where you can walk or run to increase your fitness in preparation for the event.
Do I have to raise money?
We would like you to commit to raising $250 and if you do we will pay your registration and you will receive a running top and loads of other benefits.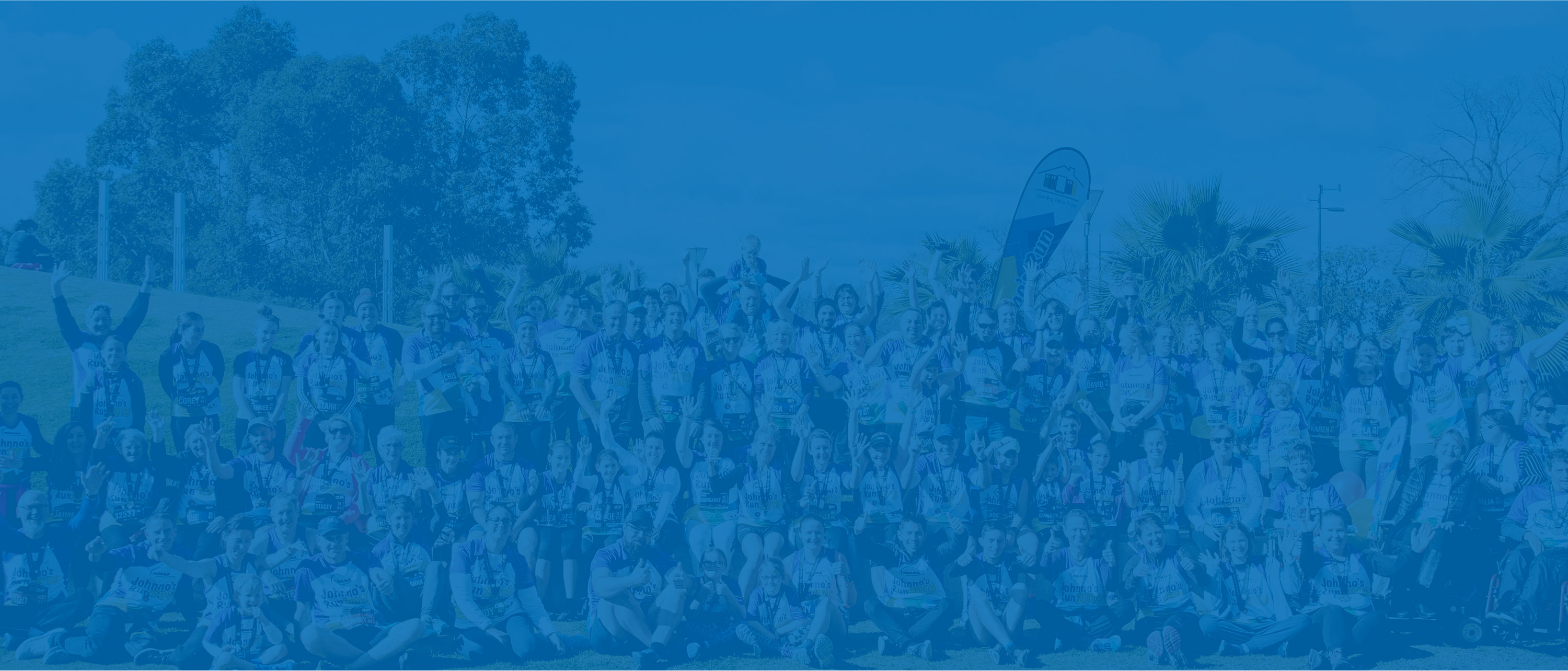 People Love Being A Part Of The Johnno's Run Team…
Johnno's Run is a great motivation to exercise in winter and fantastic sense of community and belonging.
It was great fun being part of a community event and seeing all the Johnno's Run
t-shirts in Melbourne. The support the whole team gave each other was great to see!
I enjoyed running my first ever 10km at Run Melbourne and seeing the joy and achievements of others. It is a wonderful opportunity for people with disability to be supported and empowered to be part of the run.
I have never fund raised on my own - I have raised a lot more than I thought I could. A very fulfilling feeling!
What did I enjoy most? - Fitness, being part of a team and the wider community and raising money for a wonderful cause!
I enjoy the camaraderie with the entire team and knowing together we are making a lasting difference
It's rewarding to run for a great cause rather than personal achievement
I loved the sense of community and had pride in the amount I raised.
I love that Johnno's Run enables our whole family to be involved.
It's great seeing familiar faces (or shirts) out on the course at Run Melb! Everyone participating in Johnno's Run are so positive. Just a great friendly environment to be a part of.
It is really great to be able to help other people in our community. The sense of community spirit around the day was amazing.
Join the Johnno's Run Team and make 2020 your year of making a difference!
Want to have fun and make a difference in the community? Johnno's Run is the answer! Registration is free with a commitment to raise $250. You will receive…
Free Registration to Run Melbourne – your registration fee will be covered, whether you choose the 5km or 10km walk/run or the Half Marathon
A specially designed Johnno's Run running top
Free training sessions to help you prepare for the run
Regular Johnno's Run newsletters to keep you in the loop and motivated
A BONUS gift bag prior to Run Melbourne
FREE team breakfast the week before Run Melbourne
The personal satisfaction of making a difference in the community
Plus, as a member of the Johnno's Run team you will receive 2 FREE eBooks to help you get the most out of your experience. These eBooks are yours to keep forever with our compliments.
Brady Threlfall's 5 Insider Training Tips – 3 x Winner of Run Melbourne's Half Marathon
You're sure to reach your goals by following these guidelines to prepare for Johnno's Run & #johnnosrun2019
Seven Simple Yet Powerful Fundraising Tips Guaranteed To Help You Raise More Money
These handy tips and tricks will make raising $250 a piece of cake!
Johnno's Run is a great way to get in shape, make new friends and support people with disability. Simply leave your details below to secure your spot now!