Now that we have a lay of the land (quite literally at the block in Barry Street, Echuca), it's time to touch on where we're up to now, and what we've achieved so far. A timeline of what's been done, and what's to come.
In the dreaming phase of the Barry Street Project, CLRS management and Board Members formed a 'Project Control Group' – to oversee the large workings and appoint key groups that would deliver the project. The Project Control Group then took applications for a project management firm to handle the inner workings of the Barry Street Project – which saw Cerno Group appointed.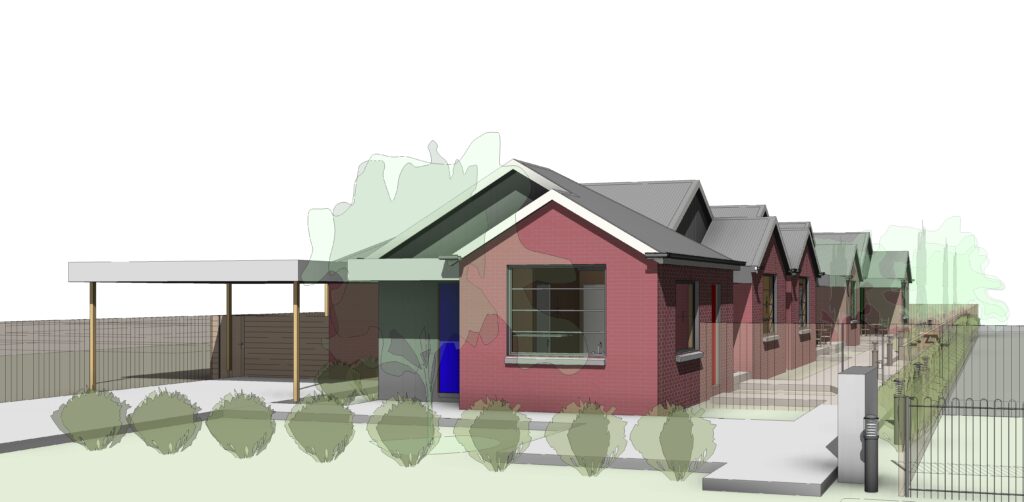 (Above – Concept Drawing of the Barry Street Project units)
From here, we entered the 'Design Phase' – where Cerno Group have engaged a design team, consisting of architects, engineers, surveyors, landscapers, and SDA consultants. Cerno Group will see the Barry Street Project through from early concept design to the completion of construction. Cerno's key focuses are time, cost and quality – meaning that they do the finer work on behalf of CLRS to ensure a quality project is delivered on time, within budget.
The 2 User Groups have been meeting with members of the Project Control Group to provide insight on what they feel is needed in the design of the Barry Street units. As individuals with a direct connection with disability and/or people with disability, CLRS are asking them for their personal input to ensure a more holistic and well-rounded approach to the design. 

(Above – Concept Drawing of the Barry Street Project units)
The successful architects for the Barry Street Project are an Echuca based firm called Ecotecture Design Group (EDG). EDG have been involved in the design of the units, working closely with an SDA Consultant to ensure they're designed to the Robust level of the Specialist Disability Accommodation (SDA) standards. They have also worked on the preparation and submission of the town planning application. Upon approval of this, they will continue with the construction drawings – which they plan to have ready before tender in June/July 2021. 
Moving forward to the 'Construction Phase' of the project, Cerno Group will seek applications for a builder, selecting the best quality and best price for CLRS. As we make more progress, please continue to follow along on:
Initiatives like 'The Opening Doors Project' are only possible through your support, so liking, following, sharing, and commenting are all fantastic ways to help spread the word.
The projects are also dependent on fundraising, and wouldn't be happening without the generosity of the community. 
We are currently selling tickets to our MEGA DRAW – raising funds via online raffles. Tickets give you the chance to win a $10,000 Home Improvement Package, which will be drawn on November 30. They also give you access to smaller monthly prizes, donated by local businesses. To buy tickets or for more information about fundraising, sponsorships and donations – head to https://clrs.org.au/get-involved/opening-doors-project/